Talking about Telepathy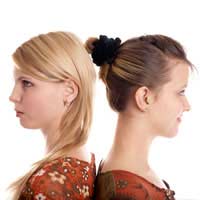 The ability to read another person's mind - what an idea! Telepathy when treated in fiction is often seen as a blessing and a curse, with the psi powered individual struggling to shield themselves from unwanted thoughts or targeted by government hit squads. Fiction aside, how is telepathy treated in the real world?
What is Telepathy?
The term "telepathy" comes from two Greek words: tele (remote) and patheia (to be effected by) and was coined in 1882 by the founder of the Society for Psychical Research, Frederic W.H.Myers. The term used prior to telepathy and one which very accurately describes the major function of the ability, is "thought - transference." Telepathy, after all, is the ability to communicate mind to mind with another being, traditionally by projecting and retrieving thoughts, like having a conversation without words. Mind reading in this fashion is a major part of the sweeping parapsychology ability ESP (Extra Sensory Perception) and is often confused with or used interchangeably with the term.
Testing for Telepathy
The ability to ready another person's thoughts like reading a book, or two individuals having a conversation mind to mind, remains the stuff of science fiction as far as skeptics are concerned. Tests for telepathy have yet to produce anyone able to perform a telepathic feat close to those displayed in popular fiction and so they focus on producing any form of telepathic contact at all - enter the Zener Cards. Used in many an experimentation, Zener Cards are simple flash cards with different bold symbols on them - two or three people are required to use them in a test for telepathy.
One person is designated as the sender - and this person could also be the one conducting the experiment - and concentrates on one card at a time. The other person is the receiver, and tries to pick the image out of the sender's mind. This can be an easy and fun experiment to try at home, just keep in mind that there is a 20% chance the receiver is going to guess the right card (one card out of five), so don't look for telepathic powers unless they are getting the right answer more than 20% of the time.
Telepathy and Popular Culture
Telepathy is a very popular idea and is one widely covered in popular culture. Books, comic books, television shows and movies all have examples of telepathic heroes and villains and of many varieties on the telepathic concept. Some telepaths can only receive thoughts when touching a target, while others have to fight to keep from being driven mad by the flood of thoughts that assail them. Some get flashes of emotional states while others can push their targets to do their bidding, exerting a sort of mind control over them. Certainly the idea of telepathy is an attractive one to a creative writer and in turn the ideas that flow backwards from fiction to researchers help the search for the truth about telepathy.
Final Thoughts
While currently there are no clear examples of thought transference telepathy in existence, that may soon change. The study of the mind continues daily around the world and recent advancements in technology show the rudimentary beginnings of the ability to control machines with thought - it might be right around the corner that tech-powered telepathy is spawning mental phone calls everywhere.
You might also like...