All About Online Psychics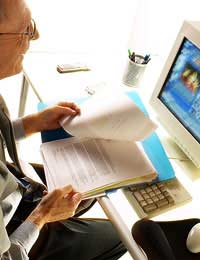 There is a famous New Yorker cartoon which shows a dog sitting at a computer screen, pawing at the keyboard and telling another dog : "On the Internet, nobody knows you're a dog." The same applies to online psychics.
Online Psychics - Knowing When It's a Dog
Quite naturally, and without consciously thinking about it, as we go about our daily lives we use a multitude of cues to decide whether the strangers that we meet are people we can trust. Many of the cues are visual; some are oral; some are social; and most of them are missing on the Internet. On the Internet it's hard to tell whether a person is credible or not, and particularly so with psychics.
Two common, but highly imperfect, ways of judging the credibility of an Internet business are by looking at the quality of its web design and appraising the quality of the language used on the site. Does the web design look amateurish? Do the sentences contain lots of grammatical errors? But even these criteria aren't especially helpful with psychics. Many online psychics are just individuals who have put up their own web page, and they don't pretend to be a business in any grander sense of the term. Is it really fair to expect them to be expert web-designers or polished writers? In a way, bad web designs and clumsy writing could be regarded as signs of authenticity.
Psychic readings are usually offered online via email, and sometimes via chat services. This means you'll be primarily limited to the written word in judging their credibility.
Advantages of Online Psychics
The downside of getting a psychic reading done online is clear. It lies in the difficulty of finding someone genuine. But there are plus sides too which shouldn't be forgotten.
Some people are embarrassed about going to see a psychic. Would you be happy being seen going into Mystic Morag's Magic Tent if it was parked outside your workplace? Online psychics offer you privacy.
While you will usually have to share a certain amount of personal information with a psychic in order to get a reading, you may want to limit its extent. Perhaps there are areas of your private life which you just don't want to be discussed. Yet it can be difficult to set those boundaries in a personal interaction. For some, then, the very remoteness of the Internet can be reassuring.
Most importantly, the Internet offers you access to talented people from all over the world. Unless you live in a giant metropolis, the chances that someone of exceptional talent just happens to live in your immediate neighbourhood are slim.
How to Find an Online Psychic You can Trust
Take a look at the website. Does it offer personal information – photographs, life story - about the psychic you will get in contact with? Or is the information generic only, meaning it could be some kind of mass production operation in which you will just be randomly shunted onto whatever "psychic" happens to be available?
References from friends or family or, failing that, from third parties. (Be wary, though. Some unscrupulous online "psychics" will make up fake testimonials from customers who never existed.)
Does the psychic offer a free initial consultation? This can help you to make up your mind if you're not sure. Do they seem genuine? Do they seem to have a "connection" with you?
Is there a money-back guarantee if you're not satisfied? Be aware, though, that not all such guarantees will be fulfilled if you really do ask for your money back.
Conclusion
The Internet has made it possible for people of rare gifts to connect with others across the world. Unfortunately, it has also made it possible for fraudsters and con-artists to rip off others like never before. Distinguishing between the two is the key challenge facing anyone who wants to use the services of an online psychic.
You might also like...
This detailed article is providing some valuable and helpful tips with regards to obtaining a psychic reading from an online psychic.
sam
- 14-Jan-13 @ 7:48 AM