Twins and ESP (Extra Sensory Perception)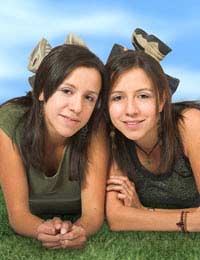 ESP, or Extra Sensory Perception, is the ability to sense things without using bodily senses; to see with the eyes, to hear with out the ears, using some psychic ability. Twins have been a natural subject matter for those exploring the possibility and seeking evidence of ESP, thanks to the fascinating closeness shared by these special siblings.
There are two kinds of twins, "fraternal" and "identical", and studies of twins involve both groups and encompass much more than ESP. It has been noted that twins often share a secret language, using words and gestures and noises that others would find nonsensical, but which twins clearly understand. The key to the twin's secret languages may also unlock the mysteries behind twins and ESP.
Twin ESP in Action
There are many anecdotal accounts of twins and ESP in action, such as the above. One twin gets a sense of danger, or announces that something has happened to their twin, and later there is confirmation. When taken into the laboratory, however, there is not a lot of empirical proof that twins posses ESP, just as there is not a lot of empirical proof regarding ESP in general.
Scientists who have studied twins using such devices as questionnaires in order to see if they could predict how each other would respond have found interesting results. The twins often did predict the answers, but then so did other people who had a strong personal relationship; typically parents and children, husbands and wives, and the like. The general thought is that in living so close together people tend to pick up how each other think, often unconsciously. If you have ever finished the sentence or said something simultaneously with a best friend or family member you have an idea of what this is about.
Could scientists explain the feeling of dread the twin in the introduction felt before getting a call that her twin was in a car accident? Not really; but then, people have had these kinds of experiences who are not twins, which is a strike against twinning being the reason behind the feelings and experiences in the first place.
Secret Language
What about the twin's secret language? Scientists have found that twins are very accommodating of one another, and in some cases one may fall behind in speech development; often the other falls right in line, imitating the incorrect sounds. Hundreds and thousands of tiny examples like this come together to form this secret language, which is born of the closeness of the twins and their predilection to support and focus on one another. This, as well, can account for the feelings and unctions that twins have that some would call ESP.
You might also like...