Taking a Look at Pschometry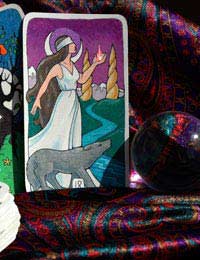 Do unliving objects have an aura that can be read by the sensitive? Do humans leave a form of psychic residue behind when they handle an object? Is there anything to the practice of sleeping with a deck of Tarot Cards under the pillow to attune them to their owner? To the practitioner of the Clairvoyant art of Psychometry the answer to all three questions is yes.
What is Psychometry?
Psychometry is the name given to the psychic ability that allows the practitioner to gain knowledge about a person or event by "reading" an object that has been in contact with or affected by either one. The term was coined back in 1842 by Joseph Rodes Buchanan, but there is a psychological discipline by the same name, so it is sometimes referred to as "token object reading" to make the distinction.
Handling an object and being able to tell of its history - via the people that owned or used the object - is what psychometry is all about. One version of psychometry is used by mediums who are attempting to channel or connect a spirit of the departed; they sometimes ask for an object that was important to the deceased, to help them "tune in" to that particular spirit.
Like many other forms of paranormal abilities, it is difficult to prove psychometry under empirical laboratory conditions. Some might say it is not difficult, exactly, but rather that it simply has not been proven. One Canadian historian is setting out with the hopes of changing that, running a current experiment open to all comers to test the validity of psychometry.
Titled very matter of factly as the "Psychometry Experiment," the idea was hatched by independent historian Chris Laursen, who is running the event from May - June of 2007 in Canada. Using objects with a documented history - and known owners who can verify any "impressions" offered by the participants - the Psychometry Experiment will allow any and all who are interested to handle and attempt to "token object read" the objects.
Instrumental Transcommunication
Instrumental Transcommunication is an interesting counterpart to psychometry. Rather than a person using an object to discern information about the owner of the object, a spirit uses an object to communicate with a person.
The devices used for communication are, appropriately enough, electronic devices designed for communication and information delivery. Fax machines, telephones, TV sets and computers that deliver messages supposedly instigated by spirits all fall under Instrumental Transcommunication. The term was coined by German physicist Professor Ernst Senkowski, of the Faculty of Engineering in University of Mainz.
Psychometry and Popular Culture
Both psychometry and instrumental transcommunication have found their way into fiction. Stephen King's Dead Zone novel used psychometry as the explanation behind the protagonist's ability to read the past and numerous novels and TV shows - such as The Twilight Zone - have used both psychometry and instrumental transcommunication as hooks for popular stories.
Final Thoughts
Getting a "reading" on an object is a fairly common practice among mediums running séances as well as mentalists performing a magic act and in both cases the ability to verify the practitioner's psychometry is limited. With researchers like Chris Laursen and his Psychometry Experiment, however, empirical evidence could be forthcoming to prove the existence of this psychic discipline in fact.
You might also like...