The Amazing Randi - Looking at the Great Critic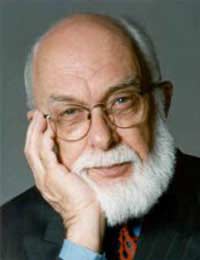 A magician makes it his life's work to deceive but the deception of a magician is done in partnership with the audience. Those who come to a magic show expect to be fooled and applaud the magician if he can do it successfully and in an entertaining manner. Why, then, if psychic phenomena is fraud as some magician's claim, would individuals like James Randi fight so hard to expose them?
James Randi
The man who became known as the Amazing Randi started life off as James Randi, born in Canada. A bike accident put him in a body cast for 13 months, during which time he developed an interest in studying magic. This interest blossomed into a career later in life and the Amazing Randi was born.
It seemed his eventual quest to find proof of psychic ability was something of a predetermined fate, considering how his career as a magician followed the path of another famous skeptic, Harry Houdini. In fact, one notable instance showed the parallels quite strongly, as he appeared on the Today Show in 1956 and performed a feat of endurance that outlasted the same feat performed by Houdini. Locked in a metal coffin and then lowered into a hotel swimming pool, Randi was submerged for 104 minutes, where Houdini had lasted 93.
Not long after he was established as a professional magician, James Randi began a second career as a debunker of psychic myth. In 1972 he got a jump on this path when he publicly declared Israeli psychic Uri Geller of being a fraud, using the techniques of the magician to deceive the public.
Why Fight?
It would seem that if what Randi is saying is true—that psychic phenomenon is nothing more than a magic trick—that magicians and psychics would be on the same side of the fence. If that were the case then the passion shown by those like Houdini and Randi would seem counter productive, were it not for one defining characteristic. According to Randi and those like him, psychics use their deceptive abilities to prey on the public, profiting from an investment made by the public that is not only fiscal, but more importantly emotional. Randi seeks to undo the works of deception of those like Uri Geller.
The $1 Million Challenge
Starting in 1964 James Randi decided to put his money where his mouth was and offered $1,000 to anyone who could prove their claim to psychic powers to his satisfaction. This offer remains intact, although the award has risen to $1,000,000. The official rules and stipulations have been laid out and include scientific testing. A number of psychic claimants have been challenged openly by Randi to take part in this challenge and some have accepted. To date not one person has passed even the preliminary testing, much less been able to claim the prize.
Final Thoughts
Challengers and critics like James Randi are extremely vocal and persistent in their claims that psychic phenomenon is nothing more than a trick (Randi has been doing so for more than forty years) yet there are no shortage of believers. Despite the lack of final proof when examined under Randi's microscope, there remains enough anecdotal evidence—and faith—to keep the truth about psychic ability shrouded in mystery.
You might also like...