Interpreting Dreams and Keeping a Dream Journal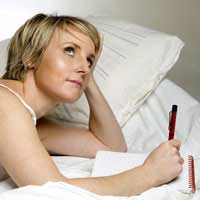 Walking along a desert path you look for water knowing that without it, you will soon die. The sun is relentless, and you are without the benefit of even clothes to keep you protected from the heat and light that surrounds you. A sharp cry pierces through the haze around your thoughts, and you shade your hand to see an eagle flying over head. A moment later you are soaring through the air, following the magnificent bird, which leads you out of the desert to a cool oasis. As you splash down into the welcome water, you awake in bed, feeling strongly moved by the dream. What did it all mean- if anything?
Do Dreams Have Meaning?
Many cultures throughout recorded history have placed some emphasis on the importance of dreaming, whether it is as a method to connect with the spiritual plane, a medium to read the future, or the path to the inner workings of the mind. It has been shown that dreams serve a purpose in that, at the very least, they allow the mind a way to unwind and deal with pressure and stress. The question "do dreams have meaning", however, is quite different from "do dreams have a purpose", and is one that many have answered with a resounding "Yes!"
Dreams and the Scientist
Freud once said that dreams were the "royal road to a knowledge of the unconscious activities of the mind" and was fond of using dream interpretation as part of his psychoanalysis of his patients. He believed that dreams were the mind's way of examining and exploring unfulfilled wishes, and the reason that dreams were symbolic and not straight forward (and thus required interpretation) was because the dreamer's guilt kept him from dreaming of the wish itself, and rather something that represented the wish.
Dreams and the Psychic
The psychic community, however, views dreaming a bit differently. Dreams are often seen as a way of communicating with higher powers, of foretelling the future, or messages from beyond the grave. Even the Bible has examples of this; one of the most famous involving Joseph of the coat of many colours, and the many times he interpreted dreams for himself and others that turned out to be prophetic.
Keeping a Dream Journal
Whether you find yourself more inclined to follow Joseph's path or Freud's, both camps agree on one thing when it comes to exploring and interpreting dreams- keep a dream journal. Nothing fancy is required, just a notepad and something to write with, and dedicating yourself to using it.
The idea is to record everything you can recall when you awake from a dream- something that will be a challenge when you first get started. Dreams are notoriously elusive, so there are a few steps you can take to help capture them. First, lie completely still when you awake. Keep your mind at peace and don't worry about the stresses of the new day. Next, try to recreate as much of the dream as you can before attempting to write it down. Sometimes the act of writing is enough to cause your consciousness to shift focus, and then you've lost the rest of the dream. Finally, keep at it! With time you will be able to recall entire dreams, and then set about figuring out what they mean.
You might also like...